As long as you're here, dear reader, below is a list of 10 poets, journals, or books you should be reading, following, and knowing:*
1. Sons of Achilles (YesYes Books) by Nabila Lovelace "questions what it means to be in and of a lineage of violence when every interaction one has with violence and intimacy, fictional and/or real, feed into relationships with self and others. How does a black woman parse, navigate, and unlearn the ways violence and intimacy intertwine when the trauma from it is familial, cultural, and even state sanctioned? From mythical characters that depict and pass down a progeny of violence through their canonization, to the witnessing of violence, this collection questions the ways violence enters and inhabits a life."
2. Zaina Alsous. Read "Apologies to All the People in Yemen" and "[a foreign woman]".
Zaina Alsous is a daughter of the Palestinian diaspora, born and raised in North Carolina. She currently lives in Miami, Florida while pursuing an MFA in poetry, and teaches undergraduate writing as a Michener Fellow at The University of Miami. Her work has appeared in The Offing, the Boston Review, Bitch Magazine, the New Inquiry, Mask Magazine, Best New Poets 2017 and elsewhere. Her chapbook Lemon Effigies won the 2017 Rick Campbell Chapbook Prize, and was published on Anhinga Press. Her first full-length collection A Theory of Birds won the Etel Adnan Poetry Prize, and will be published by the University of Arkansas Press in fall of 2019.
3. Cosmonauts Avenue is an online, monthly literary journal run by women and non-binary folks dedicated to elevating and amplifying underrepresented voices. Help them make an anthology!
4. Kamari Bright has one of the illest Instagram accounts in the game. Beyond her smart, funny, and wise poetry, her visual art and film will stun you.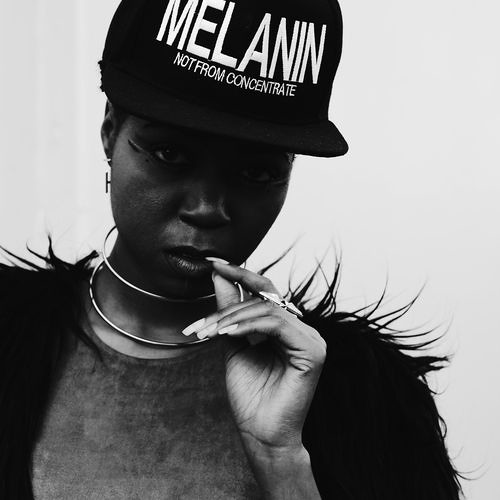 Operating with the belief that everything she creates is intended to foster understanding of self and surroundings, Kamari Bright is a poet whose work heavily reflects those themes. Recently she has been focused on introspection from a personal and societal standpoint, brought on by observations of societal shifts, losses of loved ones, and assimilation pressures. The St. Louis-born creative has had work displayed in exhibits, featured in publications, and released her first poetry book, Emergence, in 2016.
5. Luther Hughes. Buy his damn good chapbook Touched and sign up for his poetry newsletter. You'll be grateful.
Luther Hughesis a Seattle native and author of Touched (Sibling Rivalry Press). He is the Founder/Editor-in-Chief of The Shade Journal and Executive Editor for The Offing. A Cave Canem fellow and a columnist for Frontier Poetry, his work has been published or is forthcoming in various journals including, Hayden's Ferry Review, New England Review, TriQuartlery, Four Way Review, and others.  Luther received his MFA from Washington University in St. Louis. You can follow him on Twitter @lutherxhughes. He thinks you are beautiful
6. Peach Mag is "a literature and arts magazine based out of Buffalo, New York… We are committed to publishing and publicizing the most exciting work in contemporary literature and art."
7. Citizen Illegal (Haymarket Books) by José Olivarez. In this stunning debut, poet José Olivarez explores the stories, contradictions, joys, and sorrows that embody life in the spaces between Mexico and America. He paints vivid portraits of good kids, bad kids, families clinging to hope, life after the steel mills, gentrifying barrios, and everything in between. Drawing on the rich traditions of Latinx and Chicago writers like Sandra Cisneros and Gwendolyn Brooks, Olivarez creates a home out of life in the in-between. Combining wry humor with potent emotional force, Olivarez takes on complex issues of race, ethnicity, gender, class, and immigration using an everyday language that invites the reader in. Olivarez has a unique voice that makes him a poet to watch.
8. Airea D. Matthews is vital to the discourse. Read "Prelude", "Swindle", and "Narcissus Tweets".
Airea D. Matthews's first collection of poems, Simulacra, received the 2016 Yale Series of Younger Poets Award (Yale University Press, 2017). She is a recipient of a 2016 Rona Jaffe Foundation Writers' Award. Her work has appeared in Best American Poets 2015, American Poets, Four Way Review, The Indiana Review, Michigan Quarterly Review, and elsewhere. She lives in Detroit, Michigan, with her husband and four children.
9. What We Carry by Dorianne Laux. Run to the bookstore and get this damn thing. Laux is a powerhouse. The book was published in 1994 but remains a vital meditation on terror, surviving, healing, sex, parenthood, and so much more.
10. Troy Osaki. I will never not hype up my man Troy Osaki. An exceptional poet, he's also an activist, organizer, and got a gd JD and now works on criminal justice reform. He once said in an interview "I now write in hopes of building a safe and just place to live by reimagining the world through poetry" and I am still reeling. Watch "Japantown on the Travel Ban" below, but also check out "Year of the Dragon" and "A Letter to Remind Myself"
—
*This is a rotating list capturing this arbitrary moment in time and is my interpretation of poetry that needs more shine.